Switzerland is famous for many things. From political neutrality to pristine lakes, mountains, and forests, to high-end watches, to globally exported cheese and chocolate and even the widely acclaimed font, Helvetica.
Switzerland is also increasingly known for its stance on sustainable development and preserving the environment. In 2017, Switzerland was named one of the top five countries achieving the UN's Sustainable Development Goals the fastest.
Here are 5 examples of sustainability in Switzerland:
A Sustainable City
The global urban population is set to increase by 2.5 billion by 2050. As such the UN's Sustainable Development Goal 11 focuses on building resilient and sustainable cities and communities.
In 2016, Zurich was named the top sustainable city in the world according to the Arcadis Sustainable Cities Index. The city was praised for its dedication to improving the environment with specific reference to the cities' plan to become a 2000-watt society – an amount considered globally to be sustainable energy use for a city.
Other commitments considered to elevate the sustainability of the city included "investment and focus on energy efficiency and renewable energies, sustainable buildings, mobility for the future and an effort to increase public awareness, including events such as annual environment days and the Zurich Multimobil action day."
Zurich was not the only Swiss city to rank on the list, with Geneva and Calvin both ranking in the top 100 index.
Impressive Waste Management
Switzerland is without a doubt one of the world leaders in recycling and waste management.
The country successfully separates and recycles organic and recyclable waste whilst converting the rest to energy.
For example, the KVA Thun waste-to-energy plant processes "100,000 tons of combustible waste every year, serving a total of 300,000 residents in 150 communities." Due to the plant's proximity to the city of Thun, particular attention was paid in ensuring ecological and social safeties. The plant has an efficient air pollution control system which ensures air quality standards are met and emissions are kept to a minimum.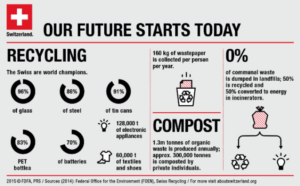 Preserving Water-quality
Everyone can agree that water is the basis for all life. Switzerland has many lakes and waterways such as the Rhine and Rhone and, as such, has taken to improving water quality as much as possible.
ARA Bern is a wastewater treatment plant considered to be one of most technologically advanced in the whole of Europe. The plant cleans 90 million litres of wastewater per day whilst also producing biogas from the sewage sludge. This gas is then used by public transport systems.
By 2022 ARA Bern will be adding an additional cleaning process to remove micropollutants from wastewater.
Capturing Carbon
In 2018, the IPCC report made it clear that negative emissions are required to keep global warming below the critical 2 °C target and prevent major climate disaster. As such, the significant strides made towards energy efficiency and renewable energy are positive, but not enough. Climate change mitigation therefore needs carbon removal technologies to achieve both a zero emissions and negative emissions future.
In 2017, the world's first industrial scale carbon-capture plant was opened outside of Zurich.
The plant removes CO2 from the air through direct air capture. The process requires minimal land space and no water to run. The CO2 is captured and delivered to a greenhouse with 250 000 similar sized plants.
The plant is able to capture 900 tons, the same amount of CO2 that would be produced from around 200 cars in a year.
Embed video: https://www.youtube.com/watch?v=63S0t4k_Glw#action=share
Protecting Climate Refugees
As climate change and global warming become more of our everyday reality, more people are being displaced due to climate disasters like extreme weather events and water scarcity.
In fact, the World Economic Forum predicts that "by the end of the century, climate change may drive 660,000 additional asylum seekers per year toward Europe."
Together with Norway, Switzerland created the Nansen Initiative in 2015 which intended to address challenges connected to climate migration on a global level, involving other countries to protect and look after displaced people in the context of natural disasters.
The initiative was endorsed to such a degree that it has since grown into the Platform on Disaster Displacement and includes support, committee and team members from all over the world.
Sarah Robyn Farrell 
References
Del Bello, Lou. "Climate Change Is Going To Make The Refugee Crisis Much Worse". World Economic Forum, 2018, https://www.weforum.org/agenda/2018/01/climate-change-is-going-to-drive-thousands-of-refugees-to-cooler-countries.
"Key Aspects Of Environmental Protection In Switzerland". House Of Switzerland, 2016, https://houseofswitzerland.org/swissstories/environment/key-aspects-environmental-protection-switzerland.
Low, Patrick. "Switzerland Commits Itself To The Protection Of Environmentally Displaced Persons – Www.Humanrights.Ch". Humanrights.Ch, 2015, https://www.humanrights.ch/en/switzerland/foreign-affairs/human-rights-foreign-policy/multilateral-policy/switzerland-commits-protection-environmentally-displaced-persons.
Mowbray, Sean. "6 Ways Switzerland Is Helping To Fight Climate Change". Culture Trip, 2017, https://theculturetrip.com/europe/switzerland/articles/6-ways-switzerland-is-helping-to-fight-climate-change/.
"Switzerland – Nation Of Recyclers". Myswitzerland.Com, https://www.myswitzerland.com/en/switzerland-nation-of-recyclers.html.
"Switzerland Is A 'Wastewater Treatment Pioneer'". SWI Swissinfo.Ch, 2017, https://www.swissinfo.ch/eng/switzerland-is-a-wastewater-treatment-pioneer/43298188.
"Thun/Switzerland: Energy-From-Waste Plant". Hz-Inova.Com, http://www.hz-inova.com/cms/wp-content/uploads/2014/11/hzi_ref_thun_en.pdf.
Willige, Andrea. "Which Countries Are Achieving The UN Sustainable Development Goals Fastest?". World Economic Forum, 2017, https://www.weforum.org/agenda/2017/03/countries-achieving-un-sustainable-development-goals-fastest/.