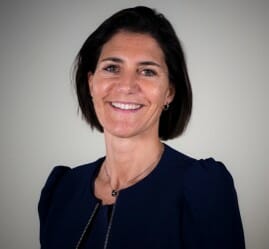 Clara Millard-Dereudre
Professor
Ms. Clara Millard-Dereudre teaches Sustainable Consumption and Green Marketing at SUMAS.
Her engagement for teaching is rooted in her years of experience in coaching and developing her teams as well as a desire to prepare future leaders to become impactful sustainability ambassadors.
Ms. Millard-Dereudre is a long-term business leader and senior executive in strategic marketing, sustainable innovation, business transformations and sustainability strategies. Through her international career in specialty materials and ingredients, she brings a broad experience across industries, value chains, stakeholders, geographies and cultures. In her last role as Global Senior Director Marketing, Strategy and Sustainability for The Dow Chemical Company, Clara led a global team responsible for the development and implementation of business strategy, including, market portfolio management, market-driven Innovation and sustainability transformation.
Clara has always been engaged in employee diversity networks, social impact projects, or non-profit associations. She lives and leads by a strong set of ethics that includes a passion for sustainability in business.
MBA Executive Leadership and Macro economy, Northwood University in Michigan, USA
Master's degree from the EDHEC Business School in France
INSEAD Social Entrepreneurship Program
Certified Six Sigma black belt project leader
Marketing strategies
Green marketing
Sustainable innovation and business models
Product development and innovation management
Value chain collaborations – Ecosystem strategies
Digital strategies
Corporate Social Responsibility
Accreditations