Tyre Recycling Solutions SA (TRS) was founded in 2013 in Switzerland with the aim of enabling sustainable recycling of the materials contained in scrap tyres. TRS has developed Swiss proprietary technologies to process scrap tyres and deliver output products with significant value-in-use.
Creator of a circular economy solution, TRS is a technology developer and integrator. They have developed a toolbox of technologies and know-how to implement the best available process.
SUMAS students project objective: Promotion of the use of t-cut in countries with moskito-borne diseases.
Project phases:
1. General analysis across countries in scope. Gathering evidence that collecting / cutting / storing in a controlled environment is an efficient way to reduce occurrence of mosquitos. Try to quantify impact. Analyze and define if a legislation framework exist for efficient waste tyre collection. Elaborate proposals to finance an optimal tyre collection system.
2. Country-specific analysis. Characterize the number of cases of mosquito-borne diseases in the country per year.
3. Use of t-cut in the tyre collection system.
4. Market for recycled rubber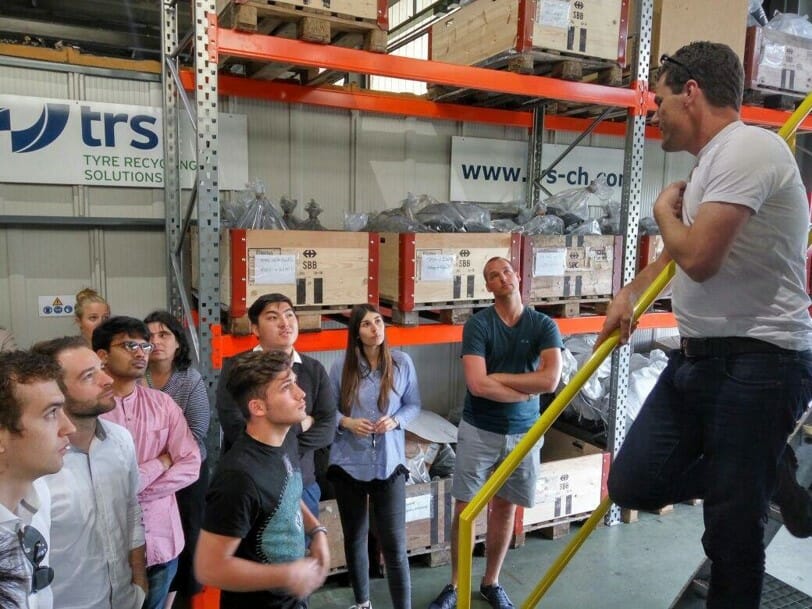 SUMAS Students during their visit at TRS