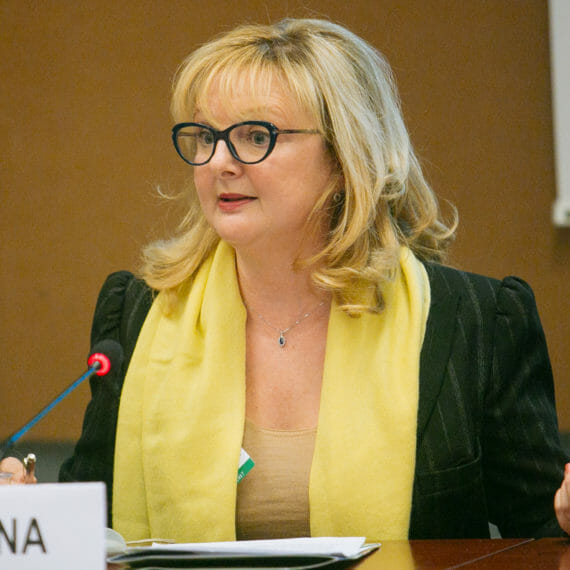 Ivana Modena, Ph.D.
President
Dr. Ivana Modena is the founder and President of Sustainability Management School (SUMAS), the first Business School in the world to launch the BBA and MBA in Sustainability Management.
Dr. Modena, leveraging over twenty-five years of academic teaching and research experience, led SUMAS to achieve reputable international recognitions. She is particularly proud to offer academic programs in business and sustainability to a student body of over 30 nationalities, from International Baccalaureate to bachelor, master and doctoral level. Ivana is personally leading graduate and doctoral students to achieve their Doctorate of Business Administration and she is coaching students to manage projects in collaboration with companies and international organizations. Her main areas of expertise are Systems Thinking, Leadership and Research Methods.
Dr. Modena built on her academic experience through prestigious publications and international conference presentations all over the world. Her book "Globale Märkte und Lokale Strukturen", published in Germany in 2005, is an important contribution in the field of intercultural marketing.
She is a member of IUCN Commission on Education and Communication (CEC) and was previously active member of ECREA, OWIT, ISA, EuroMed and ABC.
Ivana is of Italian nationality and holds Swiss Citizenship, she is fluent in English, French and German.
Ph.D. Degree in Sociology, Johann Wolfgang Goethe-Universitat, Frankfurt, GERMANY
Master of Arts with Merit in "Intercultural Communication with International Business", (awarded grant), University of Surrey, Guildford, UK.
BA Degree in Sociology, Faculty of Sociology, University "La Sapienza", Rome, ITALY
Systems Thinking in Business Practices
Waste Management
Executive Communication
Leadership and Change Management
Research Methods
Accreditations