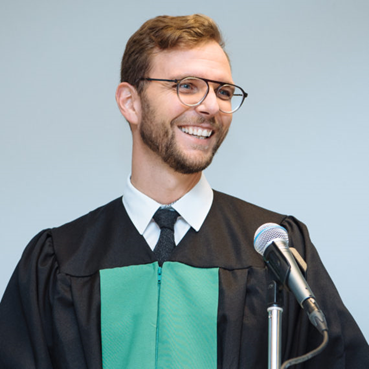 Joachim Fendt-Newlin
Professor
Joachim Fendt-Newlin holds a Master of Business Administration (MBA) in Sustainability Management from SUMAS, graduating Summa Cum Laude. As the Administrative Director of SUMAS he is responsible for the course organization, faculty administration and the management of the Online MBA Program. He teaches Project Management to Bachelor students and is in charge of company relations and the integration of real projects into courses.
In addition to the course-related work Joachim works with students throughout their "Professional Development Program" and supports them to find meaningful internships and provides guidance into the job market.
Previous to SUMAS Joachim worked 8 years in the field of Global Sales and Marketing where he held various leadership positions in internationally renowned Luxury Hotel Groups. Managing Global Sales Teams and launching new products in over 10 countries was the core of his professional work.
Studies for his Bachelor and Master degrees led him to Melbourne, Dubai, Paris and Munich. His Diploma Thesis focused on the topic of "Sustainable Hotel Management as a Driver for Competitive Advantage". A field where he contributed as a co-author to publications and research.
Throughout his MBA studies at SUMAS he worked at Ecolution Consulting, a South-African based sustainability consulting company, with the Project to develop a sustainable operations manual for the Verde Hotels Group, "Africa`s most sustainable hotel brand".
Joachim is a passionate networker and he is active in Alumni relations for SUMAS and the Universities where he previously studied.
Master of Business Administration (MBA) in "Sustainability Management" (Summa Cum Laude), Sustainability Management School (SUMAS), Gland, Switzerland
Diplom Betriebswirt (FH) "Hospitality Management", University of Applied Sciences (IUBH), Bad Honnef, Germany.
Bachelor of Arts (B.A.) in "Hotel and Restaurant Management", Victoria University, Melbourne, Australia
Global Sales and Marketing Management in the Service Sector
Business Development and Market Penetration Strategies
Sustainable- and Luxury Hotel Management
Traditional and Agile Project Management
Sustainability as a Competitive Advantage
Personal Sustainability and Healthy Lifestyles
Accreditations