Gross National Happiness, or more commonly called GNH, was invented by the fourth dragon king of Bhutan: Jigme Singye Wangchuck, in the year 1972. It was originally coined to serve as an alternative to GDP, also known as gross national product, and it was designed to help Bhutan build an economy based on the Buddhist values, instead of the material values that are prioritized by western world.
Nowadays GNH is a phrase globally recognized, and its concepts are adopted by many companies, as well as some countries or even by singular households or communities. The GNH concept inspires many happiness movements, especially through economists, politicians and journalists who promote their concepts, to the point that in 2011 the United Nations passed the "Resolution 65/309", that was adopted unanimously by the General Assembly, which placed "happiness" as one of the global development agenda, using Gross National Happiness as an example, and as the main avenue in order to achieve this goal. Gross National Happiness is based on four main pillars, which cave all of the socioeconomic aspects, as well as political and health issues that a country may have.
As soon as we landed, I was even more impressed by the tidiness and how clean everything was at the airport, which seemed something extraordinary, especially because we came from Kathmandu, and the two cities are so close, but yet so different. I was amazed at seeing how everyone was wearing the local official dress, the Gho, which is a knee length robe somewhat resembling a kimono that is tied at the waist by a traditional belt known as Kera . It was amazing that, even though they work in contact with tourists, they kept their traditional vests, and their traditional habits. This is thanks to the application of GNH which tries to conserve their traditions as well as preserving the nature.
The first evening we dined in a local restaurant in Thimphu, we also had the pleasure of dining with the minister of environmental conservation, who gave us a speech on how the Bhutanese council tries to preserve nature, also how they control tourism, in accordance to their motto: "High value, Low impact." While we spoke to him, he continuously made references to Gross National Happiness, and to their values. Apart from being honored by the opportunity presented to us, I was also able to ask him questions about the country, and on how they managed to keep it a fairytale in between countries who has become more materialistic than the majority of the western countries: such as China, India and Nepal. Thanks to this experience I managed to live the whole trip with a different vision, always questioning myself how whatever thing I saw was linked to Gross National Happiness, and how they managed to keep it as authentic as possible, without falling into the trap of the western civilization.
After dinner we had the pleasure of meeting Bhutanese culture from a close perspective, in fact we managed to listen to some local music, while we managed to view some dancers who danced some authentic local dances. Afterward they invited us to join them, and they taught us their dances, while we sipped some of their local rice wine. This experience gave me a lot of joy, especially seeing how much they loved their culture, and how everyone was having fun. Everyone was happy, which showed me how the GNH was acting as one of the main reasons for this general happiness in the people and in the country.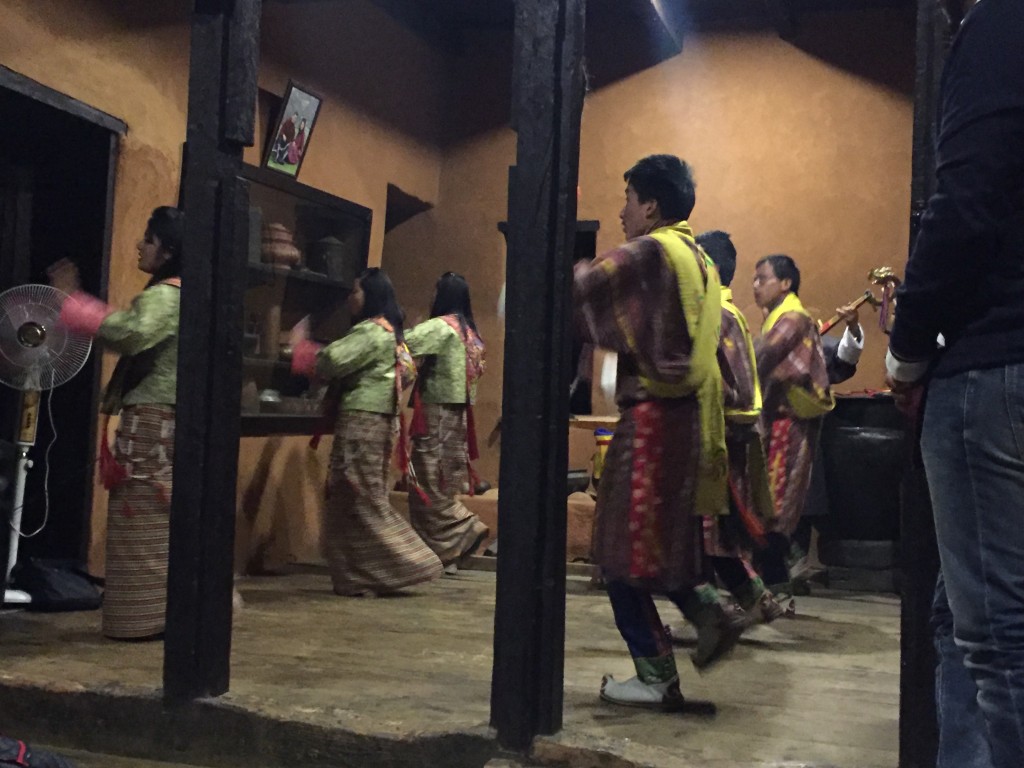 The second day we had to wake up really early, I was a bit tired, and a bit angry that I had to wake up this early. When I got out of my room, and met the three guides that were guiding us, and as soon as I said hi to them, and talked for two minutes, my day changed completely, they emanated happiness and tranquillity, which made me immediately happy, and willing to start the day. We visited a giant golden Buddha, and we also attended a celebration which was dedicated to the king. It was amazing to see how everyone was happy, dancing, singing, and celebrating the royal family. The king was in the middle of the people, making personal contact, and being humanitarian, exactly the opposite of the majority of our politicians or royal families. It was an amazing scene to look at, and it was amazing how everyone loved the king, and the royal family.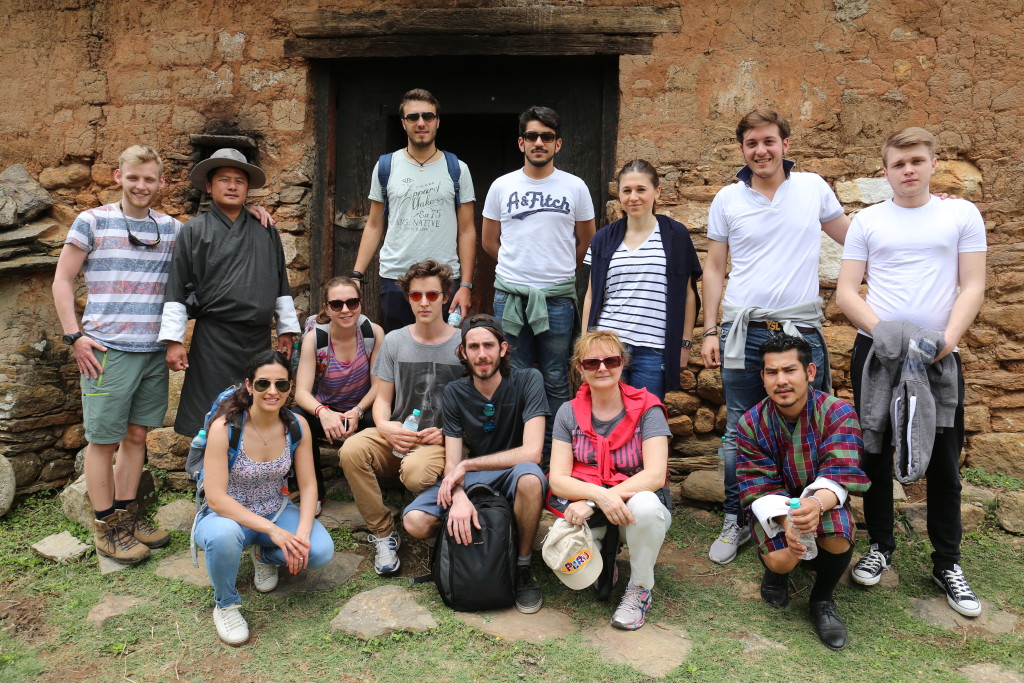 Another amazing experience we had was the third day, where we went rafting on a river. While rafting we passed in the middle of uncontaminated nature, as well as impressive monuments which where in total harmony with the Bhutanese architecture, as well as the nature. This concept of nature living with the people was amazing, and at certain point it seemed utopian, but it embraced at its fullest the ideal that Bhutan wants to achieve through Gross National Happiness. Later on that day we went to an Eco-lodge, it was my first time in a completely ecological place. The Idea of living a few days without weighing on the limited resources our planet gives us, but instead, utilising renewable resources, such as rainwater and energy produced by wind turbines thrilled me; it seemed almost like a dream, making me think that if everyone lived in that way our planet would be a much better place. Everything was built from wood, it was amazing to see how these four bungalows were part of the nature, and the amazing landscapes you could enjoy from there. It was such a relaxing and spiritual activity, since we managed to stay alone with ourself, as well as no wi-fi connection.
We all got in contact with nature, and realised which are the priorities in life, such as wellbeing and happiness; we went for some nice hikes, and we also met some local people, who invited us to drink a tea in their homes. I was amazed about how everyone, even though they don't own a lot of material thing, share what they have with you. What also raised my awareness and made me reconsider was how in every house the Bhutanese had a prayer room, where everyday the whole family reunites to thank their deity for giving them another day to live, in peace and harmony, while in our culture we barely dedicate some time to the family, and all we think about are our problems, especially about work and money.
The best experience, in my humble opinion, was the hike we made toward the the Buddhist Taktshang Goemba Temple, also known as the Tiger's nest. It was a really long hike in the middle of nature, we passed through a lot footpaths in the middle of the forest to finally reach the temple. I believe that the biggest excitement is the thrill of the hike to reach the temple, which shouldn't underestimate the excitement I had once I reached the temple. The story narrates that Padmasambhava, which was one of the greatest Buddhist guru's of all time, spent three years, three months, three weeks, three days and three hours meditating inside of a cave, just under the temple. It was just him alone with a tiger, and that's why its called the tiger's nest. Afterward they started creating the amazing temple that is now standing on top of a 900 m. cliff, and I felt very lucky that I had the opportunity to visit it.
In conclusion I would like to underline how this amazing experienced touched me from the inside, and probably changed me a little bit. In fact I believe that the Bhutanese way of life is something extraordinary, they can live in harmony between them, as well as in between nature, and politics. If only we were able to transplant their ideals everywhere we would be able to create a much better world, and probably we wouldn't have all of the sustainable, economical as well as health problems we have in our materialistic western countries.