Christmas can be a magical and fun time spent with those we love. However, Christmas is often also a time of excessive consumption, over-indulgence and unnecessary waste for those in more economically privileged positions. Here are six tips to enjoy the holiday in a more sustainable way.
1. Buy less
Giving gifts can be a beautiful expression of our love and gratitude for the people in our lives. However, in many instances we fill our Christmas stockings with far more than is necessary. Excessive consumption traces back to the destruction of our living systems, the exploitation of natural resources and people for profit.
Buying less gifts is a great way to have a more mindful festive period. This could include implementing a limit with your family on the number of gifts you exchange. It could also include making use of the secret santa tradition. If you have children, it is a good opportunity to teach them about the importance of the holiday rather than the practice of gift giving, while teaching them to appreciate and enjoy the gifts they receive.
2. Buy ethical and local – or gift an experience.
When buying gifts, look for local options that are ethically made. Local companies generally have smaller carbon footprints, whilst ethical companies sell products that are better for the environment and offer far better working environments. There is also the option to gift your loved ones an experience that you know they will love, be it a dancing lesson, beer tasting or outdoor adventure, to name a few.
3. Rethink the Christmas Tree
According to an article on Metro, the "collective carbon footprint of throwing organic Christmas trees in the garbage amounts to approximately 100,000 tonnes of greenhouse gases each year." Conversely, plastic trees are made from fossil fuels and are not recyclable or biodegradable.
If you do have a reusable plastic tree, the most sustainable thing to do would be to keep it and reuse it as many times as possible.
When it comes to replacement, Emi Murphy a tree campaigner quoted in the Guardian says that: "buying a potted tree with roots lets you grow it outside and use it again year after year, reducing its environmental impact and costing you less. A living tree will carry on absorbing carbon from the atmosphere for years to come."
There are also lots of ways to get creative and create your own version of a Christmas tree using old branches and string, stacked books or even a ladder.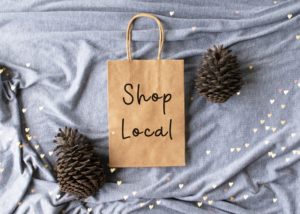 4. Eliminate unnecessary waste
From crackers, to Christmas hats to wrapping paper, there can be a great deal of avoidable waste around Christmas time. Many items can easily be avoided completely whilst others can be replaced with more sustainable alternatives, for example:
Instead of non-recyclable wrapping paper, use old newspaper or recyclable brown paper to wrap your gifts
If you are considering buying any new christmas decorations for your tree, try making your own. This could be done with salt dough, old paper or CDs
Forage for your Christmas decorations: think pinecones, greenery, chestnuts and holy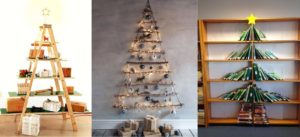 5. Reduce your food waste and compost the rest
When planning and shopping for your festive season meals, consider how to minimise food waste by coordinating your meals to include shared ingredients. That way you will use all or most of the ingredients that you have bought, instead of using them for one meal and letting the rest go to waste.
The festive season can also be a time of overindulgence when it comes to eating. You can certainly still enjoy a good meal without cooking too much food. If you do cook too much, be sure to eat the leftovers or donate them to someone in need.
Whatever leftovers and food scraps you do have left, be sure to separate and use for compost. If you are at a holiday resort or similar  that does not have waste separation or composting facilities, be sure to leave a recommendation asking the venue to consider changing their ways.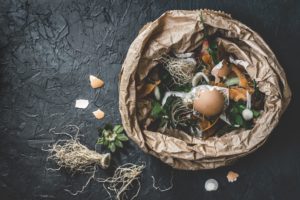 6. Talk about the important things
The end of the year is a time for reflection and goal setting. Reflecting on our own thoughts, actions and impact on others (and the world) can be an incredibly powerful tool to shift behaviour patterns and achieve a ripple of change that starts with us.
Equally, discussing important issues at the dinner table, be it climate change, anti racism or gender equality shouldn't be avoided just to maintain the Christmas cheer. Getting together during the holidays can provide the perfect opportunity for us to do better, together!