SUMAS, the top Sustainability Management School in Switzerland, is launching its new campus on 1st December 2019 in Milan. The Campus will be located at the innovation and cultural center BASE Milan.
Base Milan is centrally located in the fashion, art and design district of Milan at Via Tortona, 56 within the ex-Ansaldo complex – an important urban regeneration project in Europe.
The SUMAS campus at BASE Milan will offer the same internationally recognised (ACBSP) undergraduate and graduate programs as SUMAS Switzerland, with the addition of first-hand local fashion and design market experience. 
"We are proud and delighted to announce this exciting step in our international growth strategy," says SUMAS President and Founder, Dr. Ivana Modena. "It will create the perfect environment for international students to work together, share ideas, and complete practical projects related to fashion, art, design, business and sustainability. It will also provide students global transfer opportunities between Switzerland and Italy during their studies."
The campus is set to be a hub for activity, including:
a fashion laboratory for student practical classes on campus

a music recording studio for aspiring music artists

campus accommodation for students

a student lounge and recreational facilities

an onsite bistro

regular

activities, seminars and events  taking place every week related to sustainability and other cultural topics such as fashion, music and art

MUDEC (museum of cultural arts) and Google are also located on the campus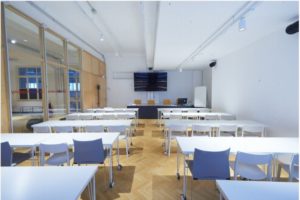 Considering that Milan is the fashion capital of the world, the campus is especially suited for those with interest / seeking a career in sustainable fashion. In addition to the sustainable fashion management programs that SUMAS offers, studying at the Base Milan campus will provide access to many important networking initiatives and invaluable practical experiences. Brands that have recently taken part in events at BASE Milan include Moncler, Gucci and Timberland. 
The Base Milan campus is, however, not only for those with an interest in Sustainable Fashion. Milan is rapidly transitioning into more of a green city with a number of sustainable developments taking place. This makes Milan an exciting city to study sustainability in general with many SUMAS courses to choose from.
Applications are now open for start in February 2020. 
For questions and more information contact: Vincent Wood, Student Recruitment Manager – vwood@sumas.ch
// ENDS //
Editors Notes
About Sumas:
SUMAS is a unique business school located between Geneva and Lausanne, Switzerland that offers innovative business programs integrated with state of the art sustainability knowledge. SUMAS combines high-level academic education with real-life projects in partnership with top companies. SUMAS was the first business school in the world to launch the BBA and MBA in Sustainability Management.
SUMAS Website: https://sumas.ch/
Instagram: https://www.instagram.com/sumasswitzerland/
Twitter: https://twitter.com/sumas_suisse
Facebook: https://www.facebook.com/SUMASeducation/ 
LinkedIn: https://www.linkedin.com/school/sumas-switzerland/
About Base Milan:
BASE is a project for cross-pollination between the arts, enterprises, technology and social innovation. Located within the ex-Ansaldo complex, one of the most important urban regeneration projects in Europe, BASE is breathing new life into a monument of industrial architecture, exploring new models of collaboration between public and private: a state-owned building, entrusted by Milan City Council to a private, non-profit social enterprise, the self-financed outcome of a union between five different charities and businesses.
BASE Website: https://base.milano.it/
Instagram: @BASE_Milano